Jobs
Tender Notice
Full Service Marketing & Communications Agency
Ulster GAA would like to invite applications from competent & dynamic companies who are capable of assisting us with all aspects of our marketing & communications process, across strategic marketing planning, graphic design, branding and full spectrum digital marketing.
We wish to offer a one year fixed term contract to the successful company to run from October 2017 to October 2018, with the potential for two further one year periods of extension.
The range of work in this contract may include:
· Promotional planning and campaign creative generation for Ulster GAA games & initiatives
· Digital & social media marketing strategy development
· Design and print of Ulster GAA match programmes across all competitions
· Website design & ongoing support services across Ulster GAA platforms
· Creative and technical inputs to all Ulster GAA managed resources
· Management & direction on all Ulster GAA corporate branding touch points
· Management of all print procurement requirements relating to Ulster GAA affairs
All prospective tenders should clearly demonstrate how they can deliver on all areas of this contract, taking into account Ulster GAA's key Evaluation Criteria & Requirements, which are outlined in our Instructions for Tenderers information pack.
To request an information pack, please contact:
Claire Collender, Information Officer,
Ulster GAA, 8-10 Market Street, Armagh, BT61 7BX
Email: claire.collender.ulster@gaa.ie Tel: (028) 3752 1900
Completed applications should be forwarded in a plain sealed envelope to the above address (in hard copy only) and marked 'Tender for Full Service Marketing & Communications Agency for Ulster GAA' and should arrive not later than 12 noon on Thursday 21st September 2017.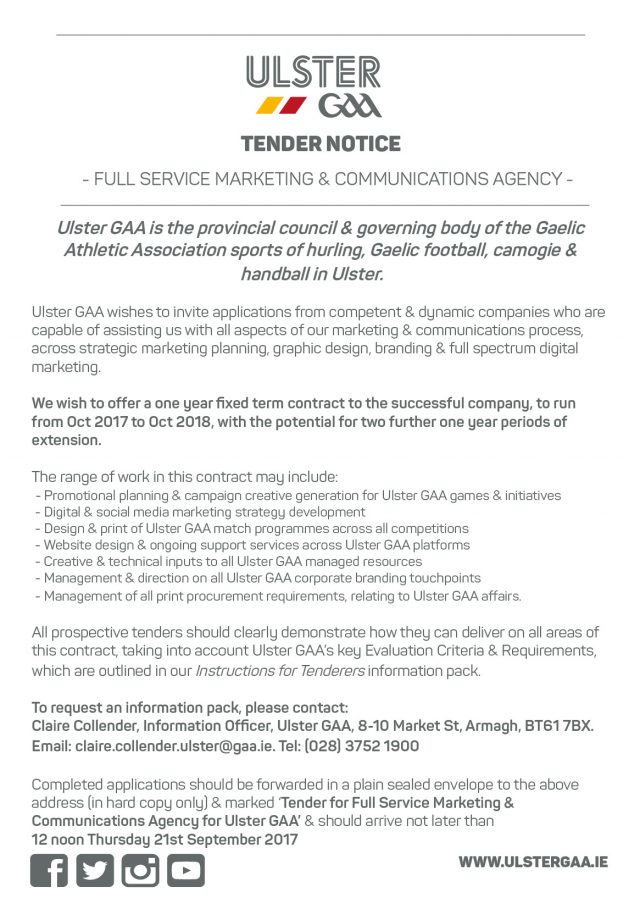 Equality Statement
Ulster GAA is committed to the promotion of equality of opportunity. We are opposed to all forms of unlawful and unfair discrimination, both direct and indirect, in terms of both employment and the provision of goods, facilities and services.
Ulster GAA is responsible for and committed to ensuring that no employee, job applicant, volunteer, participant or member receives less favourable treatment on the grounds of age, gender, disability, ethnic origin, race, colour, nationality, parental or marital status, religious belief, class or social background, sexual preference or political belief.
Download: